Basic Community Emergency Response Team Training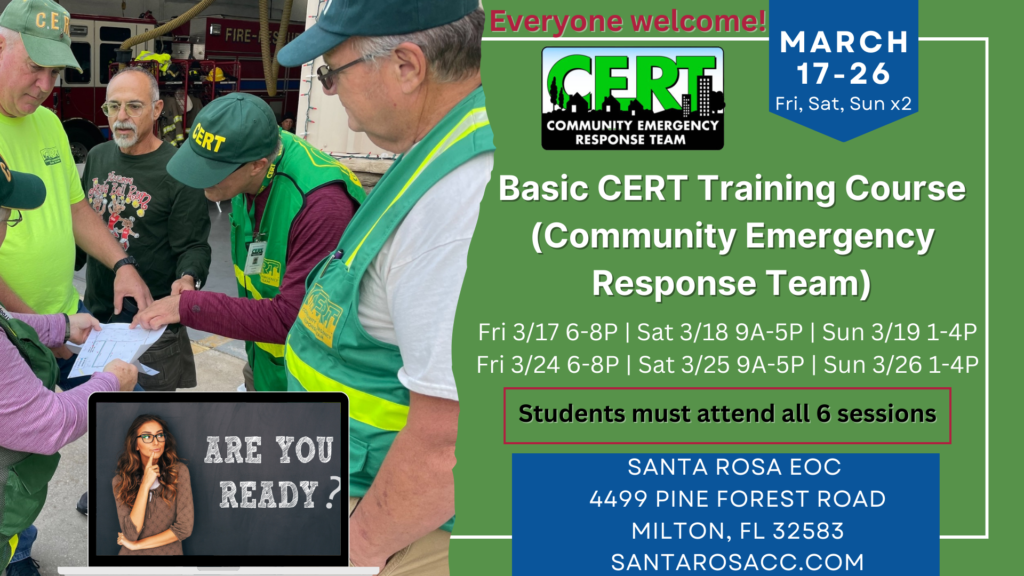 Students must attend all 6 sessions to complete their training and be qualified to volunteer in Santa Rosa County FL. The course is free and all students will receive a basic CERT supplies kit for free as well.  Please register for the course via this link.
Fri 3/17 6-8P
Sat 3/18 9A-5P (lunch provided)
Sun 3/19 1-4P
Fri 3/24 6-8P
Sat 3/25 9A-5P (lunch provided)
Sun 3/26 1-4P
Prerequisite course – Students should complete the IS-317 online course before attending. The course is brief and can be completed from the comfort of your home.
In this course, you'll learn how to support yourself and your community before, during, and after a disaster. Topics include:
CERT Organization
Disaster Medical Operations
Disaster Psychology
Fire Safety & Utility Controls
Light Search & Rescue
Terrorism & Cert
Hands on exercises
What is CERT (Community Emergency Response Team)?
As a CERT volunteer, you'll have the opportunity to make a real difference in your community during emergencies by providing essential support services, such as checking on neighbors, distributing important information, and assisting with traffic and crowd management. Plus, you'll receive valuable training and be part of a team of dedicated volunteers working together to help those in need. Don't miss out on this exciting opportunity to make a positive impact!
These teams play a vital role in helping our community during times of disaster and emergencies, as well as providing support for community events like parades, festivals, and 5Ks. This is a great opportunity for families to volunteer together as young people ages 12 and older can participate with a parent or guardian.
Gain the necessary skills to be prepared to take care of yourself, your family, your neighbors, and others in your community. Learn how to be self-sufficient and ready to help others in times of need. Basic CERT supplies are provided!