Amateur Radio Tech Class
January 6, 2024 @ 9:00 am

-

5:00 pm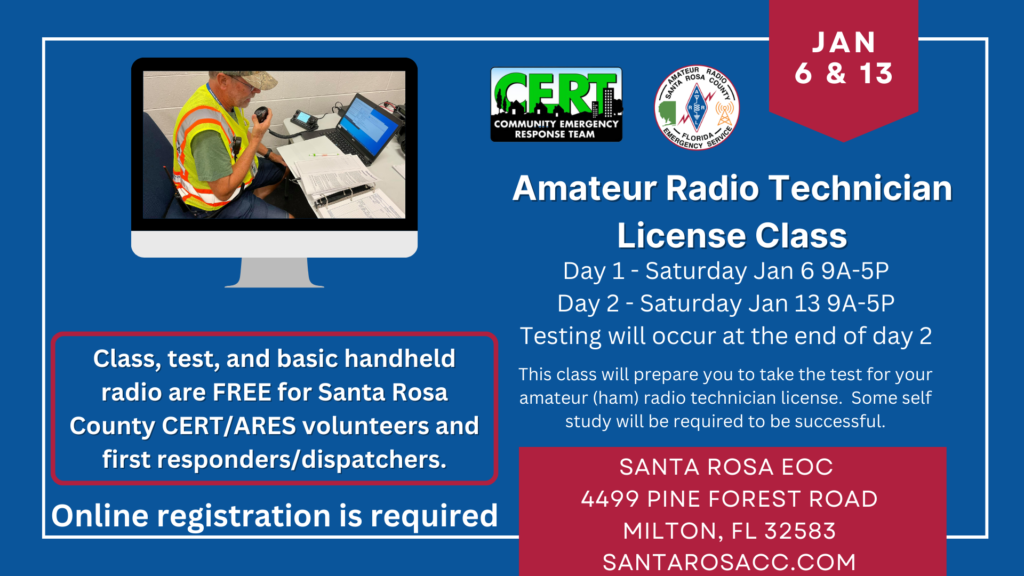 This class will prepare you to take the test for your amateur (ham) radio technician license. Some self-study will be required to be successful. All Santa Rosa County CERT & ARES volunteers and first responders/dispatchers will receive the class, book, license exam, and basic handheld ham radio for free.  You must register online.
Class Schedule:
Day 1 – Saturday January 6, 9A-5P

Day 2 – Saturday January 13, 9A-5P

Testing at the end of day 2
Ham radio is a hobby that allows you to communicate with people all over the world using radio waves. But it's not just about chatting with other hams – it's also a way to help out in times of crisis. When natural disasters strike or communication networks go down, hams are there to provide essential communication support. It's a chance to use your skills and knowledge to make a real difference in the world. Plus, it's a fun and exciting way to explore the world of radio technology and meet fellow enthusiasts. So why wait? Start your journey in the exciting world of amateur radio today!
We are offering this class to prepare our CERT (Community Emergency Response Team) and ARES (Amateur Radio Emergency Service) volunteers to support disaster and event response in Santa Rosa County.
Related Events