Our CERT class took part over two consecutive weekends from Friday to Sunday. Volunteers were provided with basic supplies and of course, we fed them too. This was one of the largest CERT classes that I know of as we hosted 40 participants. Students learned skills ranging from basic first aid to light search and rescue.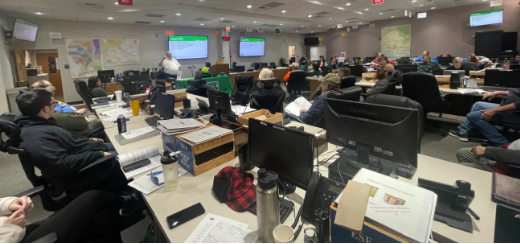 One of the biggest emphases of the class was to provide hands-on training.  It's one thing to sit and listen to a lecture but another to actually have the practical experience to go along with it.  Students got experience in life saving techniques such as stopping the bleed and patient assessments.  Students also had the opportunity to fight a simulated fire with one of the local fire department chiefs.

CERT Instructor Steve Samaha demonstrates patient evaluation
The class ends with a large scale simulated mass casualty event in which the students' skills and ability to remain calm are put to the test. We utilized students from the Pace FL High School drama department to act as victims and boy, they did an amazing job. The feeling and emotion they put into the exercise made it feel as real as it possibly could have. Instructors applied makeup and other simulated injuries to the victims to allow the participants to triage their patients. Firefighters from the City of Milton Fire Department participated as evaluators and said that even their team would've had a hard time dealing with the amount of victims that our students did.
We're incredibly proud of this class and the way they came together as a team.  Many of these CERT students were ARES volunteers already and the ones that aren't will be attending our amateur radio technician course that kicks off May 6 in which we have 30 people signed up.  To help remove any barriers from someone getting licensed and on the air, we're providing the class books, the class itself, the license test, and a basic handheld radio to those that pass for free.  The entire class is free to help get as many people on the air as we can.