Our ARES meeting for December included a special guest speaker, Tim Trowbridge, Logistics Chief for Santa Rosa County Florida Emergency Management. Trowbridge has been working for the county since May of 2022 and brings with him 19 years of experience in Law Enforcement.
As Logistics Chief, Trowbridge is responsible for interacting with several volunteer organizations, including ARES, CERT, Faith Based Partners, United Way/211, Red Cross, Medical Reserve Corps, and Shelter & POD Support.
During the meeting, Trowbridge spoke about his plans to expand the county's Citizen Corps organization by supporting a wider range of events.  Citizen Corps is a national network of volunteers who are trained in emergency response and preparedness. The purpose of Citizen Corps is to engage individuals and communities in emergency preparedness and response efforts, helping to ensure that they are ready to respond to a wide range of disasters, from natural disasters to terrorism.  By working together, Citizen Corps volunteers can help to protect their communities and ensure that they are prepared for any type of disaster.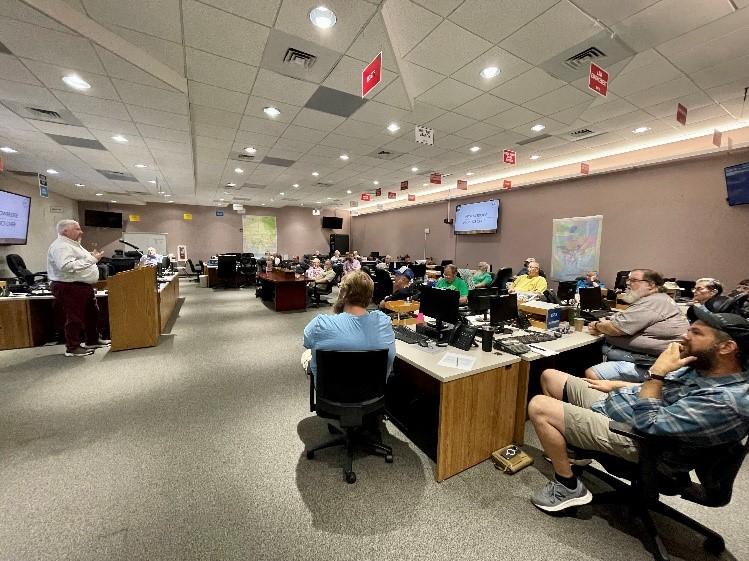 To help achieve the goal of expanding Citizen Corps, Trowbridge has appointed Arc Thames-W4CPD as the Alternate Logistics Section Chief and Assistant Citizen Corps Coordinator for Santa Rosa County. Thames brings 9 years of experience in special event incident planning from his service as the Auxiliary Unit Lieutenant for the Crestview Police Department. Thames serves in several capacities within the State including the ARRL Northern Florida Section Emergency Coordinator and Amateur Radio Liaison to the State. Thames has been involved with ARES in Santa Rosa County for 5 years, with the last 2 and a half serving as their ARES Emergency Coordinator.
Thames & Trowbridge look to expand volunteer support of incidents and events including disaster support and response, races, parades, festivals, and traffic direction for incidents. They emphasized the importance of working these types of events, as it helps volunteers learn how to interoperate with other agencies and organizations, preparing them for real disasters.
One of the organizations that falls under the Logistics team's purview is CERT, or the Community Emergency Response Team. CERT is a national program that trains volunteers to be prepared for a variety of disasters, including earthquakes, hurricanes, and terrorism. CERT members are trained in basic disaster response skills such as fire safety, light search and rescue, and disaster medical operations. They are also taught how to work with other agencies and organizations during a disaster, ensuring that everyone is on the same page and working together effectively.
A key goal of the Logistics Team in Santa Rosa County is to expand CERT (Community Emergency Response Team) to the rest of Santa Rosa County. Currently, CERT is only active in Navarre, but Trowbridge and Thames hope to see CERT and ARES team members cross-trained, so that all volunteers can assist with any type of event.
The attendees at the meeting were enthusiastic about the plans and developments discussed, and Thames mentioned that a training schedule for the spring would be available soon. Overall, it was a productive and exciting meeting, with much to look forward to in the coming months.
Santa Rosa County Emergency Management will host an open volunteer meeting on Saturday January 21, 9:00AM at their EOC.  This meeting will be an opportunity for those interested in volunteering in the community to find out how they can help.