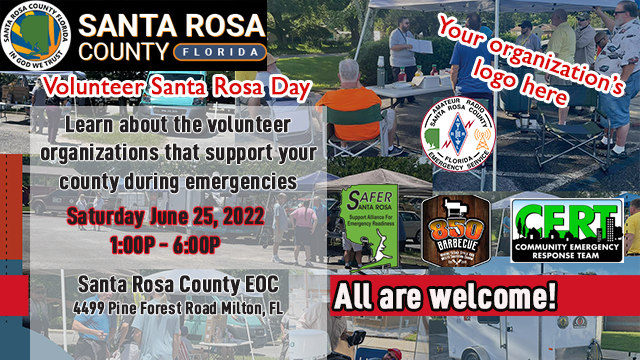 We will use this page to track all things related to this year's ARRL Field Day on June 25 & 26. You do not have to be a Santa Rosa County ARES member or a member of any club, all are welcome! The actual event is for 24 hours from Saturday June 25 at 1:00P central until Sunday June 26 at 1:00P central. We are focusing on Saturday June 25 from 1-6P for a fun family event with activities for the family.
If you're interested in helping setup, greeting visitors, working the "Get on the Air" station, or operating one of our spare radios, please signup online.
If you bring any items from the list below for our partners, Food Raising Friends, you'll receive a raffle ticket to be entered for prizes including a 43″ 4K Amazon Fire TV!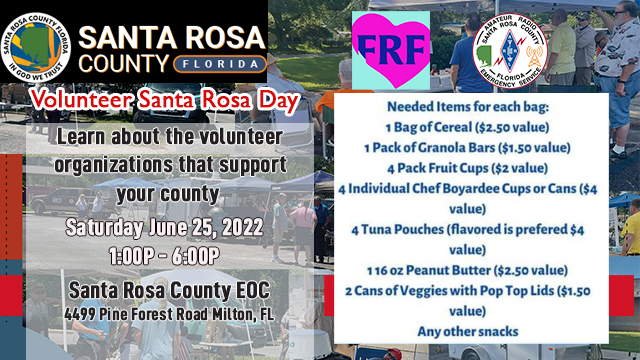 What is Field Day?
Field Day is ham radio's open house. Every June, more than 40,000 hams throughout North America set up temporary transmitting stations in public places to demonstrate ham radio's science, skill and service to our communities and our nation. It combines public service, emergency preparedness, community outreach, and technical skills all in a single event. Field Day has been an annual event since 1933, and remains the most popular event in ham radio.
We also invite the public, elected officials, members of law enforcement, fire/ems, and emergency management to drop in and see what amateur radio is all about and how we use it to serve our community.
Actual field day operations are from 1:00PM on Saturday June 25 through 1:00PM on Sunday June 26 so you can drop in anytime, but the main family fun activities will be available from 1:00PM until 6:00PM on Saturday June 25.
Important Information
Setup begins at 4:00PM on Friday June 24
We will be operating a full 24 hours from 1:00PM on June 25 to 1:00PM on Sunday June 26
We will operate inside of the ARES/RRPA & Emergency Management trailers in the north parking lot of the Santa Rosa County EOC (4499 Pine Forest Road in Milton, FL.)
Our operations plan can be found here (coming soon)
Official Rules can be found here (coming soon)
More information coming soon!